Blog
COVID Pandemic Increases Courier Demand in Winnipeg - CBC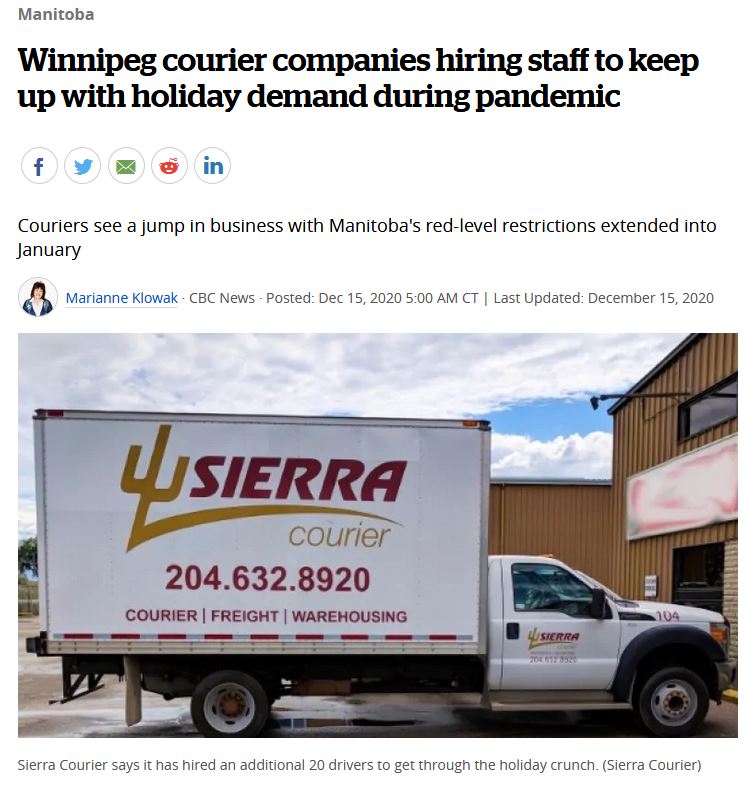 2020 brought forth some unprecented challenges for almost everyone and every business. The courier industry has been no exception as highlighted in this article by CBC News. Marianne Klowak interviewed local companies to discuss the delivery service in today's environment. Click below to read more:
https://www.cbc.ca/news/canada/manitoba/courier-business-demand-covid-19-1.5841505
Let us deliver that for you
When doing your own deliveries, is it worth all the hassle?
Why do it all yourself? Count on Sierra Courier to get the job done while saving you money and the hassle. Sierra Courier delivers hundreds of shipments every day and to put it simply, We Deliver! Let our next delivery to be yours.
Top Five Reasons You Should Use a Courier
There are a lot of reasons to choose a courier service when determining how to get items from A to B. Here are the ones we think are most important to our customers:
Save Time
It's much faster to call a courier company to come to your address and pick up a package to deliver across town than it is to drop what you're doing, get in your car, and deliver it yourself. Using a courier frees you up to do the things you need to be doing – like running your business.
Save Money
The courier business is highly competitive, and prices for deliveries across town and across the world are probably less than you think. It's likely much more cost-efficient to send something by courier than it would be pay an employee to do it.
Meet Deadlines
At Sierra Courier, we know about deadlines. Our regular courier service within Winnipeg is 3 hours, but we do have 2 hour and 1 hour service. We also have the capacity to deliver your item downtown within 25 minutes, and other areas of the city within 40 minutes of your call. For those emergencies (and they do happen) we have a vehicle standing by to do direct drive service anywhere in North America. We have pickup and delivery service available to you 24 hours a day, 7 days a week, 365 days a year.
Make Sure Your Shipment Gets There
We know where your package is every second of the time it's in our possession, and so do you. eTrac allows you to place orders for shipping, follow your package every inch of the way, and notifies you the second it gets there.
Make Sure it's Done Right
We've become Winnipeg's courier of choice because of our attention to detail. No matter what your needs are, you can rest assured that Sierra Courier will do what it takes to meet them. Around the corner, or around the world, we take your shipping needs seriously!
Preparing for your next Trade Show
A study by the Center for Exhibition Industry Research (CEIR) in the U.S. shows that trade show attendance has increased steadily since 2009, a trend that will likely continue through 2015. More than 80 percent of the people who visit trade shows are decision makers, with purchasing power for their company. If you are participating, it's imperative that you make the best possible impression.
This likely means a large and carefully designed display, along with plenty of samples of your company's products, and accompanying literature to distribute to potential customers. You'll have plenty of signage, and likely some specialized furniture as part of your display.
Co-coordinating a trade show exhibition is, for many businesses, the single largest and most important marketing activity of the year. When you're considering the logistics of moving your exhibit from place to place, think about Sierra Courier as your go-to transportation company. We have lots of experience in trade show work, a flexible fleet of vehicles on the road at all times, ready to take care of your largest and smallest needs.
We will reliably ensure that your convention or trade show materials are picked up at your door, and delivered on time to any facility in North America, ready for you to set up and sell.
Since 1976, Sierra Courier has established itself as the courier of choice for all kinds of deliveries in this city. As a Winnipeg business, we take the success of your operation to heart.
To find out about the trade show services Sierra offers, contact us at 1-866-575-ASAP.
Shipping Gifts? Make Sure They Get There!
Your gift says something to its recipient. Maybe it's "Thank You". Perhaps "I Miss You". Or maybe even "I Love You". No matter what you intend to say, if your gift gets destroyed in transit, it will say, "I didn't know how to pack this correctly." At Sierra Courier, we move all kinds of items – from the everyday to the downright unique. We've moved live animals, human skeletons, and a planeload of poop. Whatever it is you're sending, we can help you make sure it gets to the destination intact.
Packaging The key to having your item arrive at its destination is appropriate packaging. While we treat every package like it's our very own, things happen in transit. The better care you take in wrapping your item, the more likely it is to survive. The choice of an appropriately sized outer box is important. This is the most protective part of the packaging, and it should not be too much larger than your item, but should be large enough to hold some internal packaging material (like rolled or shredded paper, polystyrene packing peanuts, corrugated cardboard, or foam sheets) that will prevent your precious cargo from smashing against the side of the box. You should wrap items that you can in enough paper or foam that you can't tell what they are by feel, and loosely fill the "air" in the box with cushion to protect the gift in the event of a knock or drop.
Climate Control If you plan your item's trip, it's possible to keep the interior of your package at a temperature that will protect perishable goods from freezing or thawing, despite the harsh climate they may experience during transport. Chocolate gifts must be kept cool enough to survive prolonged periods in the hot sun on the tarmac. People successfully ship all kinds of perishable goods, including live seafood products by planning in advance. Make sure that whatever technique you're using to keep your item cool will last at least 12 hours longer than the trip is planned to take. Some shippers use dry ice for refrigeration, but frozen gel packs are almost as effective, and far less hassle.
Communication Make sure you let us know about special items. We've got lots of experience in doing the nearly impossible, and we'll be happy to share it with you. When you call Sierra Courier for a pickup, let the dispatcher know if your cargo has special handling needs. We'll do our level best to accommodate and get the job done right, so your gift sends the intended message.