Blog
Wishing Everyone Happy Holidays from Sierra Courier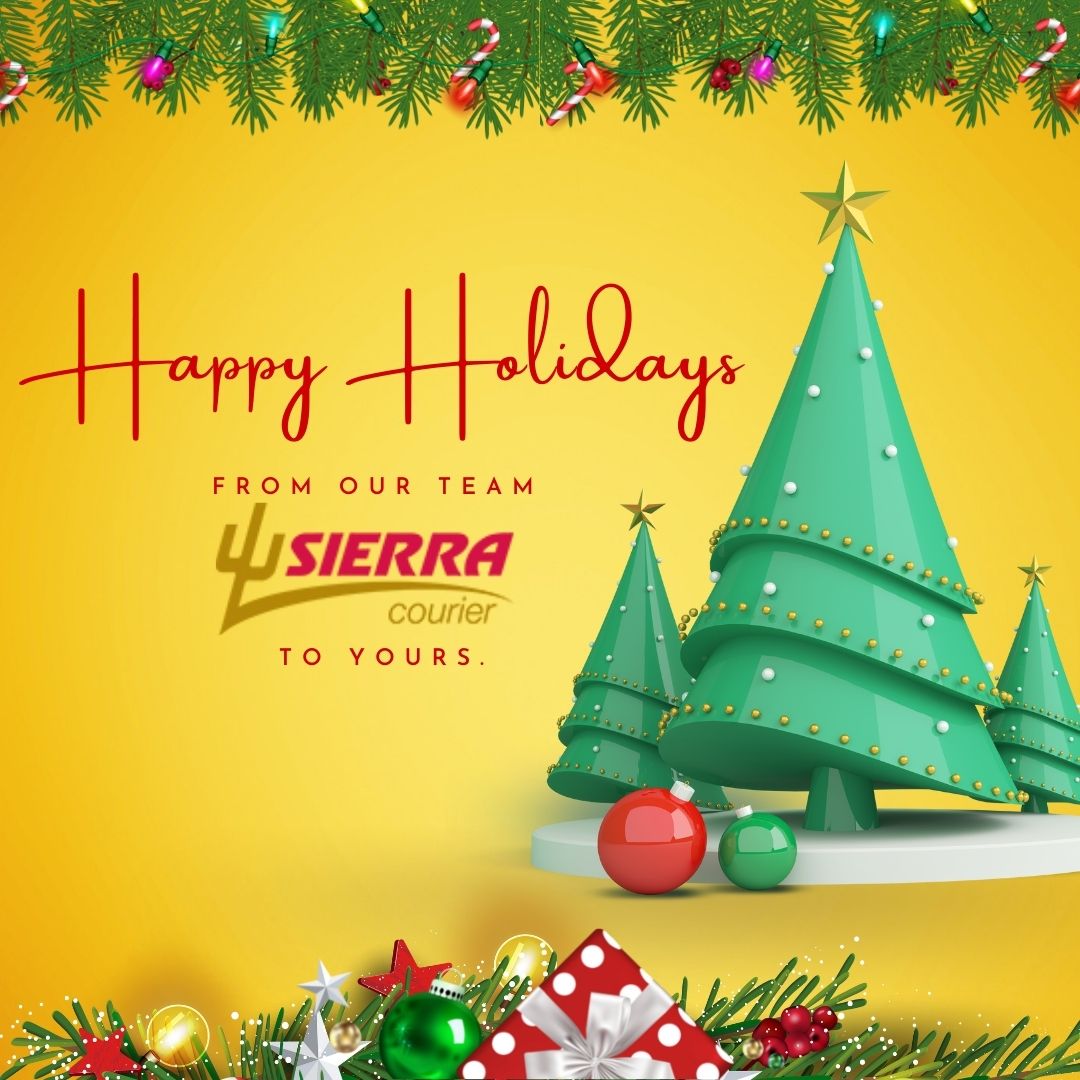 The team at Sierra Courier would like to our customers and vendors very Happy Holidays and New Year.
We also wanted to take this opportunity for your continued business and look forward to working with you.
As we all know, it's been a year and we're going to take some time to be with our families in the allowed parameters.
Please see our holiday hours:
December 24th - Closed at 2pm
December 27th - Closed in lieu of Christmas
December 28th - Closed in lieu of Boxing Day
December 31st - Closed at 2pm
January 3rd - Closed in lieu of New Years Day
We are so proud to be part of the Manitoba business community for 45 years!
#supportlocal
Proud to be Serving Manitoba Businesses for 45 Years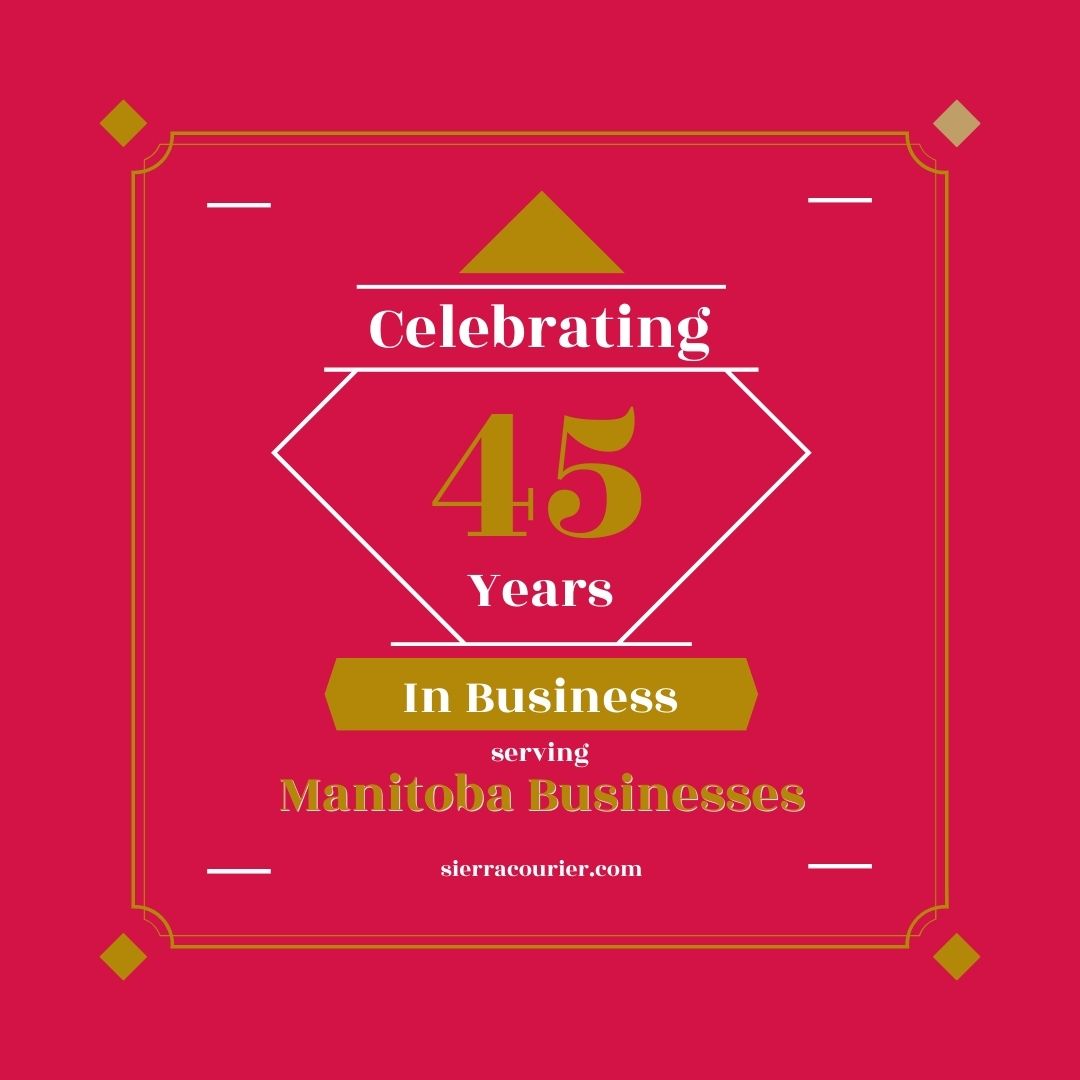 We are so proud to be part of the Manitoba business community for
45 years
!
Sierra Courier is a locally owned and operated courier and delivery company. What does that mean for our customers? When you call in to our office you're speaking to an actual person who understands not only your account and your needs, but the uniqueness of our city. We know that street names change 5 times and you can't turn left at this time. We know the lingo but more importantly we know you. There is nothing nicer than to be greeted with a smile in the voice of the person you're speaking to and don't be surprised if we check in on something you've mentioned to us in the past. We're local and we care.
Congratulations to all our team members who have helped us achieve this amazing feat!
#supportlocal
Let us deliver that for you
When doing your own deliveries, is it worth all the hassle?
Why do it all yourself? Count on Sierra Courier to get the job done while saving you money and the hassle. Sierra Courier delivers hundreds of shipments every day and to put it simply, We Deliver! Let our next delivery to be yours.
COVID Pandemic Increases Courier Demand in Winnipeg - CBC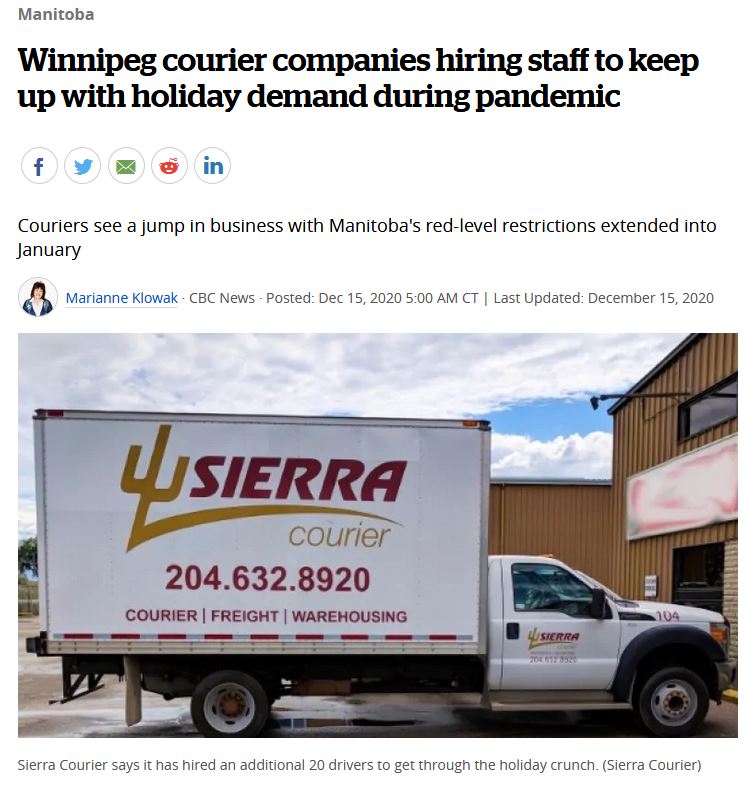 2020 brought forth some unprecented challenges for almost everyone and every business. The courier industry has been no exception as highlighted in this article by CBC News. Marianne Klowak interviewed local companies to discuss the delivery service in today's environment. Click below to read more:
https://www.cbc.ca/news/canada/manitoba/courier-business-demand-covid-19-1.5841505
Preparing for your next Trade Show
A study by the Center for Exhibition Industry Research (CEIR) in the U.S. shows that trade show attendance has increased steadily since 2009, a trend that will likely continue through 2015. More than 80 percent of the people who visit trade shows are decision makers, with purchasing power for their company. If you are participating, it's imperative that you make the best possible impression.
This likely means a large and carefully designed display, along with plenty of samples of your company's products, and accompanying literature to distribute to potential customers. You'll have plenty of signage, and likely some specialized furniture as part of your display.
Co-coordinating a trade show exhibition is, for many businesses, the single largest and most important marketing activity of the year. When you're considering the logistics of moving your exhibit from place to place, think about Sierra Courier as your go-to transportation company. We have lots of experience in trade show work, a flexible fleet of vehicles on the road at all times, ready to take care of your largest and smallest needs.
We will reliably ensure that your convention or trade show materials are picked up at your door, and delivered on time to any facility in North America, ready for you to set up and sell.
Since 1976, Sierra Courier has established itself as the courier of choice for all kinds of deliveries in this city. As a Winnipeg business, we take the success of your operation to heart.
To find out about the trade show services Sierra offers, contact us at 1-866-575-ASAP.